While our Product Support team can help answer your general or technical questions, help with troubleshooting and provide guidance on resolving issues, there are situations where a more involved, hands-on approach is preferable.
This is where our Professional Services team comes in. You can work with our experienced Data Engineers in two ways - for small projects like a code review, removing a roadblock, upgrade assistance, etc. you can use Professional Services hours that are part of some CloverDX plans (Plus or Enhanced). If don't have Professional Services available in your plan, or you need a longer-term project, you can work with your Account Manager to set that up.
If you purchased either the Plus or Enhanced support plan, you will automatically receive a specific number of hours of Professional Services assistance per purchased unit per year. The hours will be replenished yearly based on the date the plan was purchased. If you run out of the hours and would like to add more, please get in touch with your CloverDX Account Manager by filling out the contact form that can be accessed either by clicking on the Contact account manager button in the Customer Portal or by using this direct link.
How many Professional Services hours do I have?
The number of total and available Professional Services hours can be reviewed in two places:
In the

Professional Services

section Your home

Under

Your Plans

section, where you can see the total number of allocated hours per plan, and further details about how many hours have been used and how many are tied to open PS requests.
Professional Service in the Customer Portal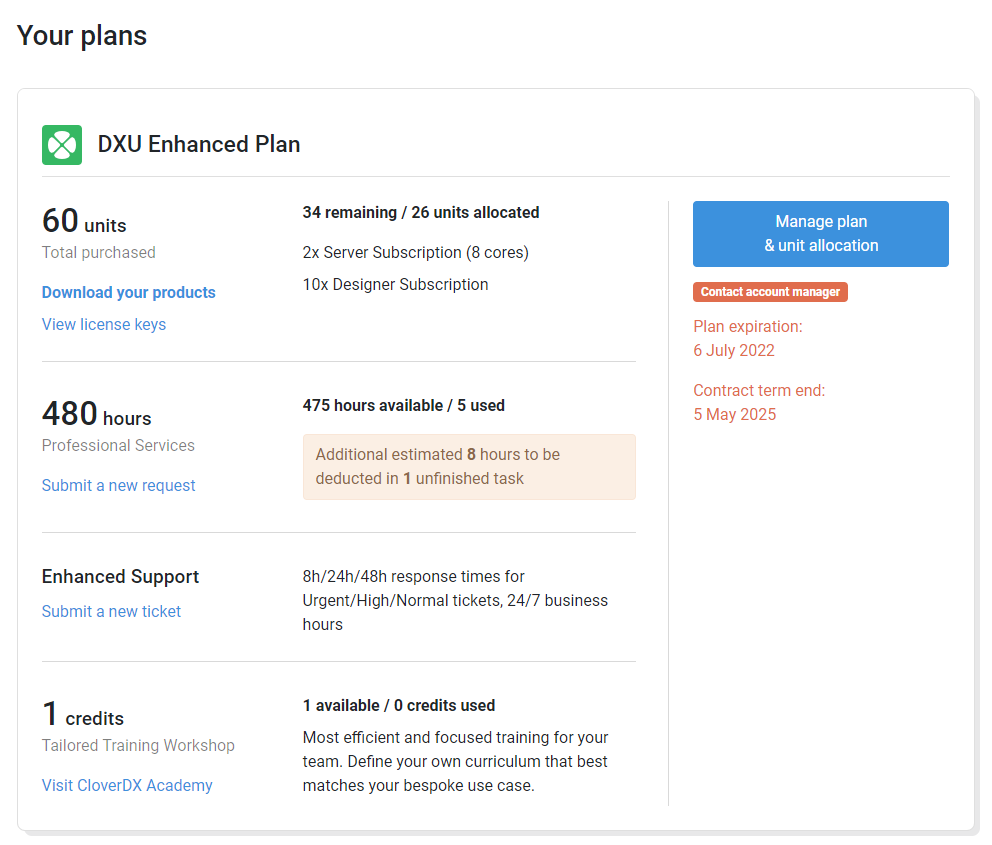 Request Professional Services: To create a Professional Services request, use the New service request form. This form can be accessed by clicking on the Submit a new request link in your plan detail in the Your Plan section, or you can use this direct link.
Select the nature of your request and fill in other additional information as needed. After submitting the request your CloverDX Account Manager will reach out to you to discuss further details to get a full picture of what the project will involve. After assessing the complexity, you will be notified of the estimated man hours that the project will require.
List all current and past requests: You can review your submitted requests and the provided estimated and/or used hours by clicking on the List all requests link in the Professional Services section or by using this direct link. Your Account Manager will again reach out to you to let you know the estimated number of hours and if approved, will schedule the project with a member of the Professional Services team.