HOTFIX NOW AVAILABLE
UPDATE 3 Dec 2020: We have released a hotfix for CloverDX Designer that no longer requires VirtualBox and runs directly under macOS Big Sur. Please download the MacOS Big Sur hotfix from the Customer Portal.
There are now two solutions for Big Sur incompatibility:
(RECOMMENDED) CloverDX Designer hotfix build for macOS Big Sur

Get it from Downloads in Customer Portal
Regular installation as with any other previous version, no extra steps needed
If you encounter problems, please contact us at support@cloverdx.com
This is still considered as an experimental solution

(For users requiring older CloverDX versions) VirtualBox image running High Sierra + CloverDX Designer – read below
The following article covers the VirtualBox image workaround - as of Dec 3, 2020 this is only needed in case you need an older version of CloverDX (prior to 5.8.1). In all other cases, please use the MacOS (Big Sur hotfix) build available in Downloads on the Customer Portal
Due to recent issues preventing users from running CloverDX Designer on macOS 11.0.1 Big Sur (see this announcement) we've prepared a temporary solution that allows you to run CloverDX Designer in VirtualBox on an earlier version of macOS (High Sierra).
There's no extra cost to this, and we've provided a pre-installed package to make installation simple.
The pre-packaged bundle (DMG) with VirtualBox allows you to run CloverDX Designer on an macOS High Sierra virtual machine, without having to downgrade your computer. The bundle contains pre-installed CloverDX Designer version 5.8.1, but you can later install an earlier version if you need to. You can get your CloverDX licenses and downloads for other version in the CloverDX Customer Portal.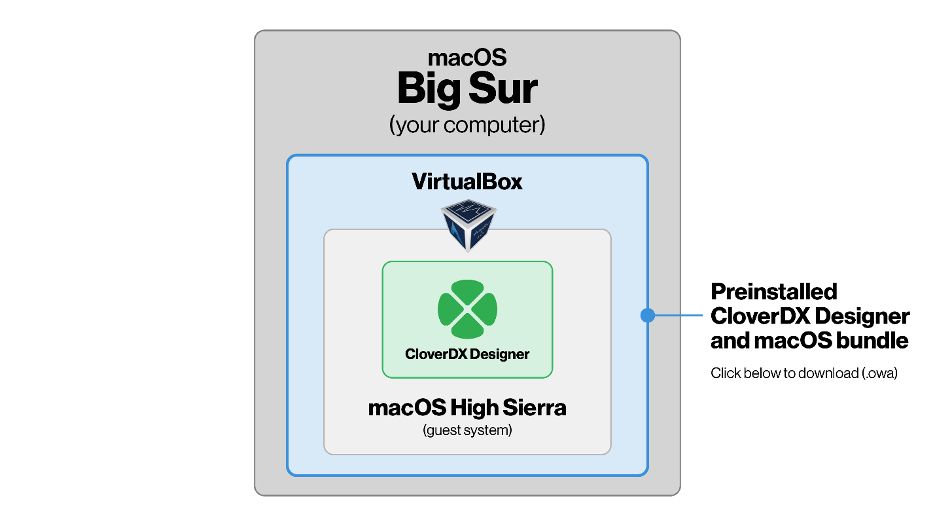 CloverDX Designer on Big Sur using High Sierra in VirtualBox
We consider this as a temporary solution and are actively investigating further options.
Download the CloverDX workaround for macOS Big Sur
Download CloverDXHighSierra.dmg from Customer Portal (15 GB)
Please log in using your customer or trial credentials. If you can't find your log in information, try resetting your password or contact us at support@cloverdx.com.
No other download required
Installation instructions available in this README
Contents of the package:

CloverDX Designer 5.8.1
VirtualBox 6.1.16
macOS 10.13 High Sierra

You can also get the above from CloverDX Customer Portal (version 5.8.1 only) alongside with your Designer license.
We apologize for the inconvenience caused by this issue. Our product team is continuing their efforts to find a more elegant solution so that you can enjoy the best CloverDX experience. If you have further questions or need assistance, feel free to reach out to us at support@cloverdx.com.
I'm getting "Cannot be opened because it is from an unidentified developer" error, is it safe to run?
Yes, it is safe to run these steps (as per the DMG installation window) and you need to execute all of the steps in the installer in order for everything to work. If you are unsure, you can inspect the script files to see there is no malicious code being executed.
What if I need different version of CloverDX than 5.8.1?
Install this workaround based on the instructions above and then simply install the version of CloverDX Designer you need into the virtual machine just like you would onto a "normal" macOS. You can download all previous versions of CloverDX Designer from CloverDX Customer Portal.
How much free disk space is required?
After importing the VM you will require additional 20 GB of disk for the virtual machine, so in total the installation needs 35 GB. However, the downloaded DMG file can be deleted after installation, so only 20 GB will be needed.